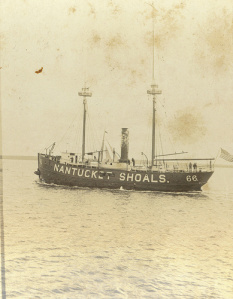 A lightship is a boat that acts like a lighthouse to warn approaching ships and other sea-going vessels of dangers along the shore.
On June 15, 1854, Congress approved the placement of the first lightship on Nantucket's South Shoals, a notorious shipwreck site 35 miles south of the island.
At night large lanterns with whale oil lamps inside them were hoisted onto the masts of the vessel. At the time, the light from the whale oil lamps could only be seen for a few miles.
Many times a lightship would separate from its moorings and be cast at its own peril upon the open sea. After only 18 months the first lightship at the South Shoals broke from her moorings and was blown 50 miles west and went aground on Montack Point. NY. Nantucket's 2nd lightship parted from her moorings at least 23 times and was once blown 800 miles to Bermuda!